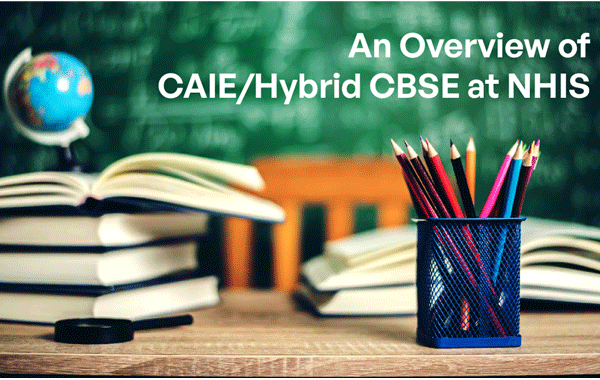 "Be curious, not judgmental." —Walt Whitman
In the 21st-century educational landscape, students face a transformed approach to learning and assessment. The era of mere textbooks and rote memorization has given way to a more dynamic paradigm, where marks and percentages have evolved into grades and percentiles. In this evolving scenario, schools must adapt to the changing educational landscape and offer a curriculum that embraces experiential learning and globally relevant knowledge.
New Horizon International School (NHIS), recognized as the premier international school in Bangalore, has been at the forefront of this educational evolution. NHIS has designed a unique curriculum that fuses the CBSE syllabus with the innovative methodologies and recommendations of Cambridge Assessment International Education (CAIE).
NHIS takes immense pride in its meticulously crafted curriculum, which seeks to foster curiosity and ignite the passion for learning in its students. We offer two comprehensive boards of education – CAIE and Hybrid CBSE, each with its distinct approach to learning.
CAIE stands as one of the world's most popular and sought-after international education boards. It not only offers a wide array of subject options but also provides a pedagogy that emphasizes flexibility and freedom.
The CAIE curriculum is a carefully curated blend of international education and experiential learning methods. This approach aims to kindle a deep-seated enthusiasm for learning within our students, unlocking their innate potential.
The Hybrid CBSE curriculum is a novel concept introduced by NHIS, one of the finest schools in Hennur. It is tailored to cater to the needs of Generation Alpha, fostering creativity and innovation. This curriculum seamlessly merges the strengths of CBSE with the innovative approaches of an international board. It encourages global thinking and adopts a student-centred, hands-on teaching approach.
A distinctive feature of our curriculum is the flexibility it offers. At the end of each academic year, students can transition from the Cambridge Board to the Hybrid CBSE Board, enabling them to choose the board that aligns best with their needs and aspirations, allowing them to realize their full potential.
Our curriculum is designed to inspire creativity and a lifelong love for learning. We believe that education is not just about imparting knowledge but also about nurturing each student's inherent talents and abilities.
As one of the top international schools in Bangalore, we are committed to fostering a learning-friendly environment and encouraging our students to continue their educational journey throughout their lives. Our commitment to providing exceptional education is evident in our curriculum.
Major advantages of adopting the Cambridge methodology:
Application-Based Learning
Emphasis on Synthesis
Environment-Focused Education
Encourages Creative Responses
Interactive Learning, Including Flipped Classroom
Class Interaction, Quizzes, Activity-Based Learning, and Project Work
Inclusion of Global Perspective as a CAIE Subject


Admissions for the academic year 2024-2025 are now open at NHIS. Visit our website at newhorizoninternationalschool.in or drop by in person to make an informed decision about your child's academic journey.
Tag: #syllabus #CBSEsyllabus #hybridCBSE #CAIE #modernlearning #uniqueconcept #syllabuspatter #NHIS #newhorizoninternationalschool #education #teachingpattern #cbseboard #cbse